On 23 April 1919, the first representative body elected by the people – the Constituent Assembly – convened in Estonia. It made many decisions that laid the foundation for our state. Every year, the Riigikogu celebrates that event with an Open House Day when you can have a look at the work of the parliament, the architecture of Toompea Castle, the working rooms of the President of the Riigikogu, and other official rooms of the Castle.
Visit us!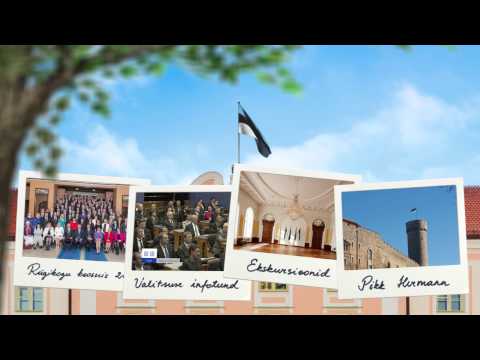 Riigikogu Open House on Thursday 23 April
In Toompea Castle
11.45 p.m. Musical greeting by the Brass Quintet of the Police and Border Guard Orchestra from the balcony
12.05 p.m. Greeting by the President of the Riigikogu Mr Eiki Nestor
12 – 4 p.m. Guided tours of the Castle, entrance to Tall Hermann tower
12 – 5 p.m. Meetings in factions
1 –2 p.m. Government Question Time in the Session Hall
2 – 4 p.m. Coffee and conversation with members of the Riigikogu in the café
3 – 4 p.m. Quiz Estonia in the 20th and 21st century in the Conference Hall with the participation of teams from schools and the Riigikogu. The quiz is hosted by Indrek Salis, Chairman of the Estonian Mind Sports Association.
4 – 5 p.m. Georg Ots Tallinn Music School plays spring rhythms in the White Hall
Governor's Garden
12 – 5 p.m. Workshops by NGO Estlander: iron forging, rune talismans, woodwork, woven decorations, cooking over fire, etc.
Artwork by Jan Granlie (Norway) is exhibited on the first floor of the Riigikogu building. The show is titled My Favourite Things and is dedicated to the Year of Music 2015.
The Art Hall of the Castle hosts an exhibition of graphic art by Henno Arrak.
Feedback