Foreign and security policy experts from national parliaments stressed the unity of the European Union
Members of foreign affairs and defence committees of the EU national parliaments, and members of the European Parliament are taking part in a joint Common Foreign and Security Policy and Common Security and Defence Policy Conference in Tallinn. The participants agreed on the importance of unity within the Union, and the need for coordinated cooperation.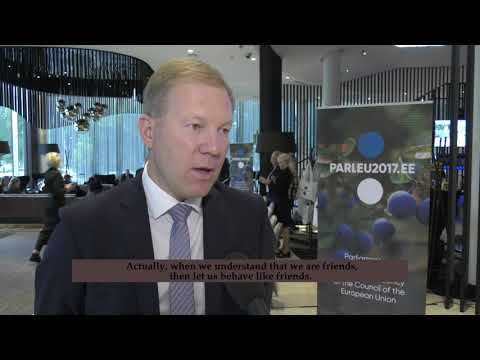 The opening session of the Conference took the form of a discussion between the Estonian President Kersti Kaljulaid and the Vice President of the European Investment Bank Alexander Stubb. The audience was reminded that the EU has always had and will continue to have a major role on the global scale. In the security situation today, the EU must defend its fundamental values and remain united, to make sure that the whole of Europe speaks with one voice.
The Chairman of the Committee on Foreign Affairs of the European Parliament David McAllister spoke about the potential of the European Union to be a global pioneer in shaping foreign policy, and stressed the need to keep up the effort. He sees diplomacy as the only way to ensure this.
The speakers emphasised the need to protect and develop democracy, human rights, and economic and political freedom in Europe. The important role of the EU in ensuring free trade and security in the globalising world was also stressed.
The US political expert Robert Nurick spoke during the session on transatlantic relations on how important it was to coordinate the European Union defence cooperation with NATO.
Speaking about security, the High Representative of the European Union for Foreign Affairs and Security Policy Frederica Mogherini said that it was not the size of the national defence expenditure that counted, but the way it was spent. The lesson we should learn from the terrorist attacks is how important it is to exchange information between the states. Mogherini highlighted cyber security as something that could be developed both at the national and the EU level.
The foreign policy day was concluded by the Estonian Minister of Foreign Affairs Sven Mikser who described the state of play outside the EU borders, and said that security cannot be divided into internal and external.
The Conference will continue tomorrow at 9.40 a.m. with defence policy and security questions. The Conference is streamed live at parleu2017.ee veebilehelt.
Riigikogu Press Service
Epp-Mare Kukemelk
+372 631 6356, +372 51 53 903
epp-mare.kukemelk@riigikogu.ee
Questions: press@riigikogu.ee
Feedback