Developments relating to Brexit were discussed at the meeting with Lord Callanan
At the meeting of the European Union Affairs Committee of the Riigikogu (Parliament of Estonia) with the United Kingdom's Minister of State for Exiting the European Union Lord Martin Callanan, developments relating to Brexit and the cooperation between the United Kingdom and Estonia were discussed.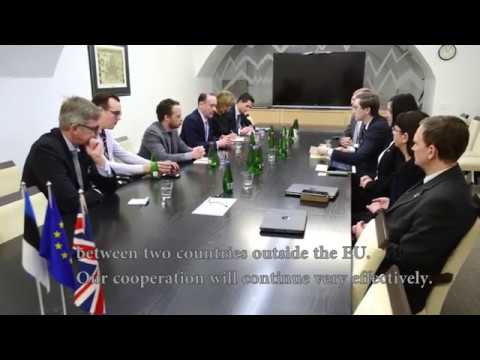 Deputy Chairman of the European Union Affairs Committee Jaak Madison, who chaired the meeting, emphasised that the relations between the UK and Estonia had always been friendly, and the Brits had been very supportive partners in NATO. "We are interested in continuing our good relations with the United Kingdom," he assured.
Lord Callanan said that the UK was leaving the European Union, not Europe. He added that the EU would remain the largest trade partner for the UK also after Brexit, although the negotiations on the agreement regarding the future relations between the EU and the UK would be complicated.
The United Kingdom wishes to conclude bilateral agreements with the countries that do not yet have such an agreement with the EU, like the USA and Japan. Lord Callanan expressed hope that the Brits would continue to be the advocates of free trade in the world.
Lord Callanan assured that the defence and security cooperation would continue, and added that even now there were 800 British troops ensuring the security of the Baltic region.
The rights of the Estonian people living, studying and working in the United Kingdom will be guaranteed. "The citizens of Estonia are welcome to remain in the United Kingdom, we value their contributions," Lord Callanan said. "They will get the so-called settled status where the vast majority of their rights will be guaranteed for as long as they want to stay in the UK."
The United Kingdom will leave the European Union on 29 March 2019. The Brits expect the transition period to last for around two years and end with 2020.
Members of the European Union Affairs Committee Tiina Kangro, Tarmo Kruusimäe and Tiit Terik also attended the meeting.
Riigikogu Press Service
Epp-Mare Kukemelk
+372 631 6356, +372 51 53 903
[email protected]
Questions: [email protected]
Feedback